Listings in Services, Cases / Trays / Delivery Trays, Armboards, Surgical Microscopes, Vertebral Augmentation Systems, Vertebral Body Replacement Systems, Document Management Systems and Stents

in Services, Compressors / Pliers, Rod Benders / Grippers / Pushers / Rockers, Guides / Sets, Distractors, Minimally Invasive Equipment, Bone Probes, Depth Gages, Custom Handles, Drivers / Screw Drivers, Sounders, Mallets
Gauthier Biomedical, Inc. is a proud manufacturer of high-quality instruments for spine, trauma, hip, shoulder, knee, ankle and small bone surgical applications.
2221 Washington Street
Grafton, Wisconsin 53024-9477
United States of America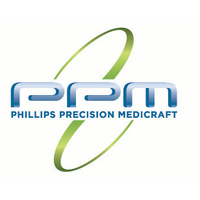 in Fixation Components, Interbody Spacers, Cases / Trays / Delivery Trays, Broaches / Cutters / Taps, Bone Screws, Hand Tools / Surgical Instruments, Rods, Contract Manufacturers, Drivers / Screw Drivers
Phillips Precision Medicraft is a leading manufacturer of advanced orthopedic implants, instrumentation, sterilization delivery systems, cases and trays.
7 Paul Kohner Pl and 50 Bushes Lane
Elmwood Park, New Jersey 07407-2614
United States of America
in Services, Interbody Cages, Fixation Components, Lumbar Plate Systems, Interbody Spacers, Allografts, Cervical Fusion Devices, Bone Graft Matrix, Bone Screws, Lumbar Fusion Devices
Spine surgeons choose Acuity Surgical for spinal implant solutions. They know they can count on Acuity's unwavering commitment to develop, design, produce, procure and support premiere lumbar, cervical and biologic evidenced-based systems.
8710 N Royal Lane
Irving, Texas 75063
United States of America
Turner Medical
in Cervical Plates, Vertebral Body Replacement Systems, Pedicle Screws, Lumbar Plate Systems, Compressors / Pliers, Distractors, Broaches / Cutters / Taps, Minimally Invasive Equipment, Expandable Interbody Implants, Depth Gages
130 Durham Drive
Athens, Alabama 35611
United States of America
Whale Imaging Inc.
in Services
300 2nd Avenue
Waltham, Massachusetts 2451
United States of America
ECA Medical Instruments
in Services
2193 Anchor Court
Thousand Oaks, California 91320
United States of America
Afferent Provider Solutions
in Services
5005 Lyndon B Johnson Fwy #1100
Farmers Branch, Texas 75244
United States of America
CarboFix Orthopedics Ltd.
in Services
7183 Beach Drive SW Suite 1
Ocean Isle Beach, North Carolina 28469
United States of America